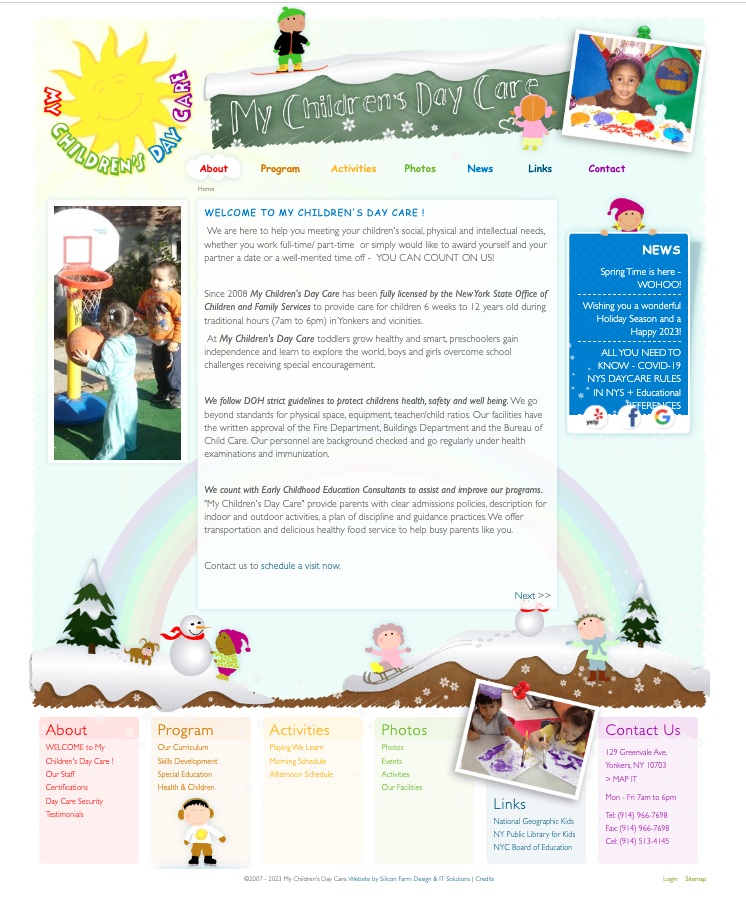 Following a decision to offer 70% off website redesign to some of our oldest active clients, we recently surveyed our customers about how they feel towards the websites we designed for them +15 years ago. We were gladly surprised with their answers :).
Yasnia Perez, the entrepreneur behind "My Children's DayCare" in Yonkers, NY became our client back in 2007. We built her an unique and cutting edge website for that time, which had a custom made design featuring all services she provided and fostering communication between her team and the parents of the children they care for. We copyrighted, designed and produced 95% of the content from illustrations, to texts, photos, etc. After so many years helping Yasnia maintain her web presence at low cost/ liability for her business, we were overjoyed to hear how much, after 15 years, she still values "My Children's DayCare" website's looks and functionality.
"I love the cute children illustrations you created for my website and how they automatically change every season. It's like my website is "redesigned" every 3 months! I love how it is easy to navigate and how I can access most of the information in one page and some clicks, without having to scroll down forever and get lost, like in most websites nowadays! - said Yasnia, insisting she doesn't need to change anything, because she LOVES her website the way it is!!
Another great surprise came from Daniel Moreno, a NYC-Cali based multi-percussionist, designer, producer who calls his website "The ONE and ONLY, forever!". We developed "Daniel Moreno Music'' website back in 2005 to help him manage his "always on the road" career and multiple recording projects. We took care of all content research and development, design, photography, audios, radio and structure, including CMS.
"No one would have Ana's patience, knowhow and organization to gather and create the website she put together for me. I love how she found images that truly represent my art, my projects and the artist I am - I'm super grateful! I was the first of my friends to have a "radio" on a personal website! I've been relying on Migrating Media services for more than 15 years now, while some of my friends have no clue where their websites passwords nor their web developers are. After all these years I still love having my mind challenging website look and not a template of obviousness - like my music is! - MMP has amazing customer service, great prices and timeless design - like great music - concluded Daniel,telling us how many unsolicited web services and hosting offers he refuses every month because of his forever loyalty to Migrating Media :).
As designers and website creators we tend to search for new looks and want to provide new visual solutions but it is wonderful to realize how much a good design and reliable customer service can stand the test of time. As long as our clients are happy and we are able to maintain and update each website's security and functionalities, driving sales and good reputation to our clients, YES, we shall agree that websites can last "forever", saving a lot of money and time for clients that wish to concentrate on their trade on life more than how they look on line.